SEMARANG, INDONESIA
Master of Economics
Faculty of Economics & Business, UNDIP
The subject matter of Spillover and Foreign Direct Investment (FDI) is an interesting issue,...
read more
The subject matter of Spillover and Foreign Direct Investment (FDI) is an interesting issue, especially as a developing country like Indonesia. The majority of developing countries face the issue of the saving-investment gap in boosting their economic growth, so they...
Causality is a phenomenon that occurs in all disciplines, especially in economics. Hoover (2012) states that causality has been the concern of economists since at least David Hume in the 18th century. Hume is the touchstone for all subsequent philosophical analyzes of...
Dalam rangka optimalisasi Program Postdoctoral di Universitas Diponegoro dan sesuai dengan surat edaran dari Wakil Rektor Riset, Inovasi dan Kerjasama No 6725/UN7.P4/TU/2021, Program Studi Magister Ilmu Ekonomi, Fakultas Ekonomika dan Bisnis Universitas Diponegoro...
Information
Research & Community Service
Information
Academic Community
MIE Alumni Testimonials :
"Life at the Faculty of Economics and Business, Diponegoro University is a pleasant and complete experience, since the courses are instructed by professional lecturers. This experience allowed me not only to appreciate my studies by growing academically and personally but also able to comprehend different cultures from mine, to know unforgettable places, people and proudly to represent my country abroad."
Moses I Mgunda – KNB scholarship awardee
"Bisa bergabung dengan Program Studi Magister Ilmu Ekonomi Undip adalah sebuah kebahagiaan bagi saya. Iklim akademik kompetitif, lingkungan nyaman dan didukung infrastruktur yang memadai. Terus Maju Prodi Magister Ilmu Ekonomi."
Zainul Hasan – Penerima Beasiswa Kemenpora
"Alhamdulillah, dengan suasana kuliah yang menyenangkan, proses belajar-mengajar yang luar biasa, dosen yang profesional bukan hanya fokus kepada materi tetapi meliputi latihan dan praktik, disertai ada beberapa seminar yang dapat menambahkan prestasi dan pengetahuan mahasiswa."
Awatif Yunu (Thailand) – KNB Scholarship Awardee
"Sinergi positif para dosen yang profesional, segenap staf dan karyawan yang ramah dan tanggap, dan infrastruktur yang berkualitas membuat saya dapat menyelesaikan studi tepat sesuai dengan waktu yang dijanjikan. Merupakan suatu kebanggaan dapat menjadi bagian dari Magister Ilmu Ekonomi (MIE), Fakultas Ekonomika dan Bisnis, Universitas Diponegoro."
Hapsari Ayu Kusumawardhani – Beasiswa PMDSU DIKTI 
Agriculture is one of the economic sectors that is very dynamic in its development, especially in...
read more
Along with the release of poverty rate data, BPS also released data on the inequality of...
read more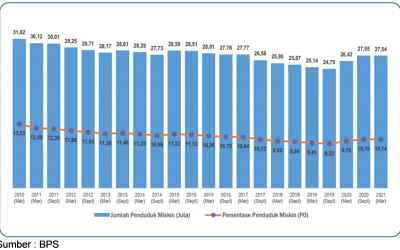 BPS has released Indonesia's poverty rate for the March 2021 period. The percentage of poor people...
read more